CEILING Jigger|VARY ORIGINAL
Regular price
Sale price
¥82,500
Unit price
per
Sale
Sold out
Jigger|Ceiling with a pendant-like presence
This tall model has a sharp atmosphere and achieves a spot-like light effect despite the ceiling (direct attachment).

I made it as an option to choose a ceiling with a high ceiling when it is difficult to balance with a pendant because the ceiling height is low in Japanese houses.
"Probably the tallest model in Japan."


---
Specifications: Check
Instruction Manual : download
---

[About delivery time]
*Subject to change depending on consecutive holidays, year-end and New Year holidays, and parts inventory status.
仕様
口金サイズ
E26 60Wまで
推奨ランプ
SWAN|SWB-LDG4L-G50LW-24 (ディフューザー装着の場合)
カラー
ボルドー/モスグレー/カスタード/アルミニウム
素材
真鍮/アルミニウム
明るさ
300lm(推奨LED電球使用時)
※ランプについて オプションのディフューザーを装着する場合は推奨ランプを必ず使用して下さい
サイズと重さ
- Please check before you buy-
【推奨電球】
数値化された情報だけでは判断が難しいからこそ、
光の質と形状という観点で選定した電球です。

【ディフューザー】

光を柔らかく透過して電球を直視する眩しさを
防止するだけでなく、デザインの拡張としての
役割を持たせています。
サイズは直径27cmの1種類となります。

SWITCH ON/OFF ※tap or clickで照射角度や
点灯のイメージの参考にしてみてください +Diffuser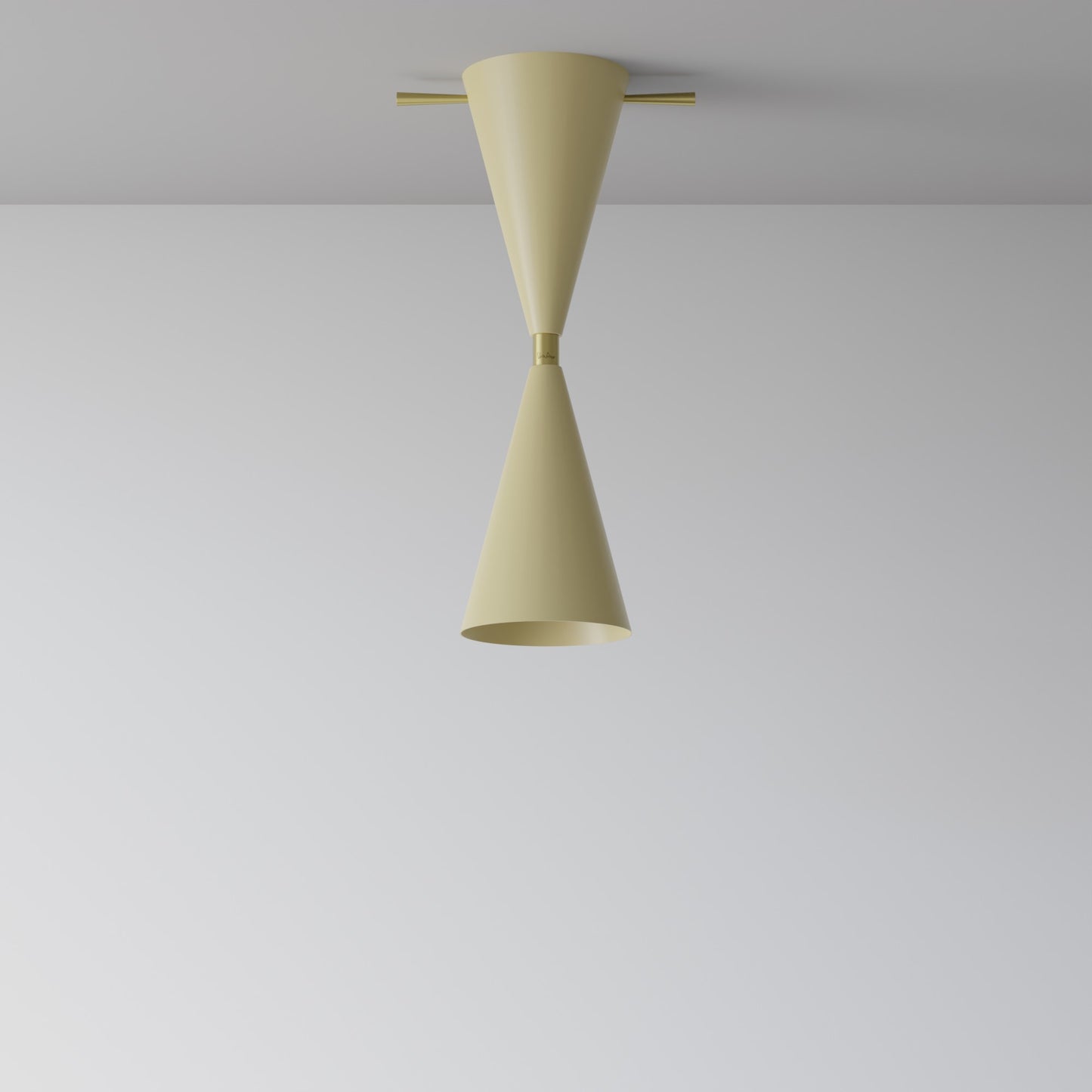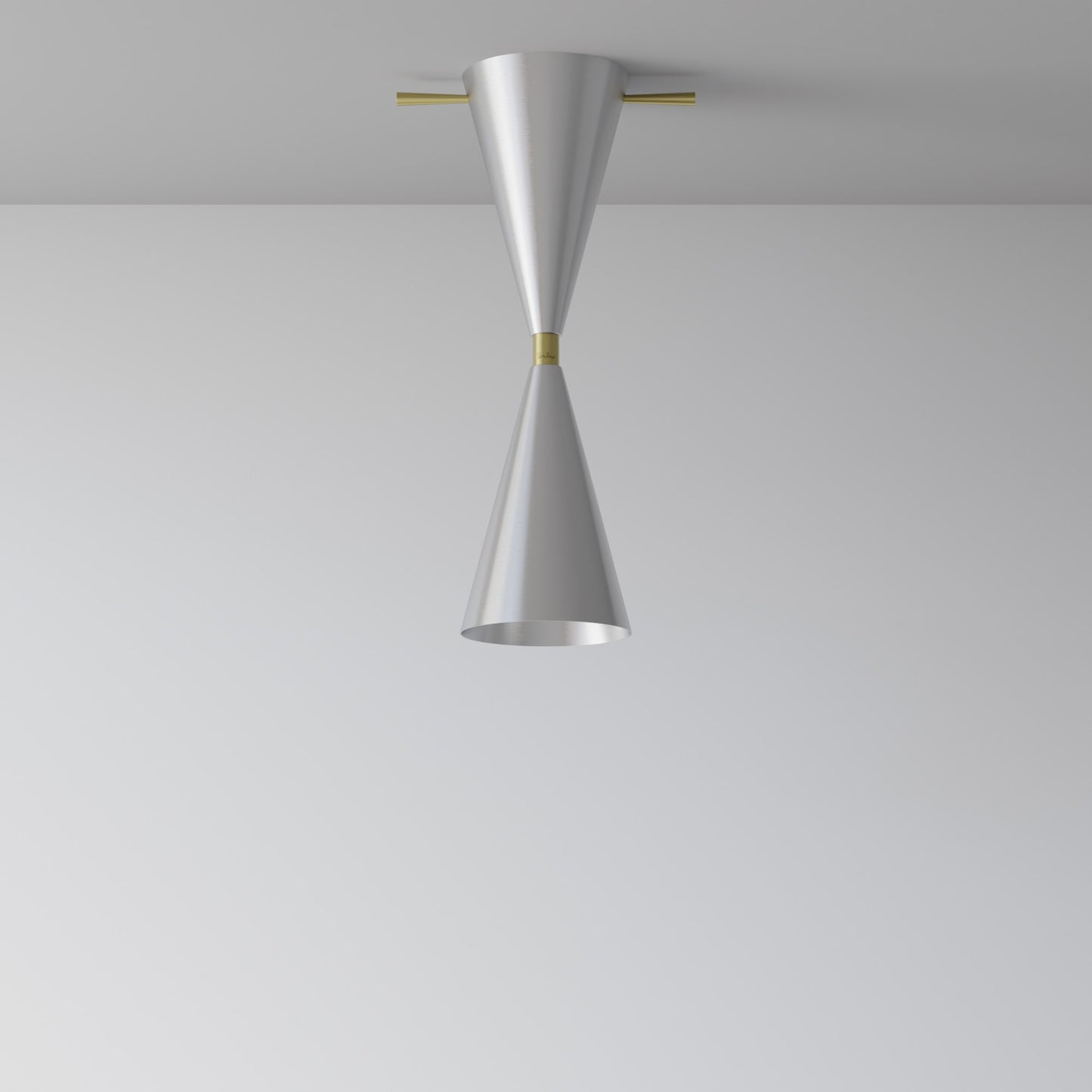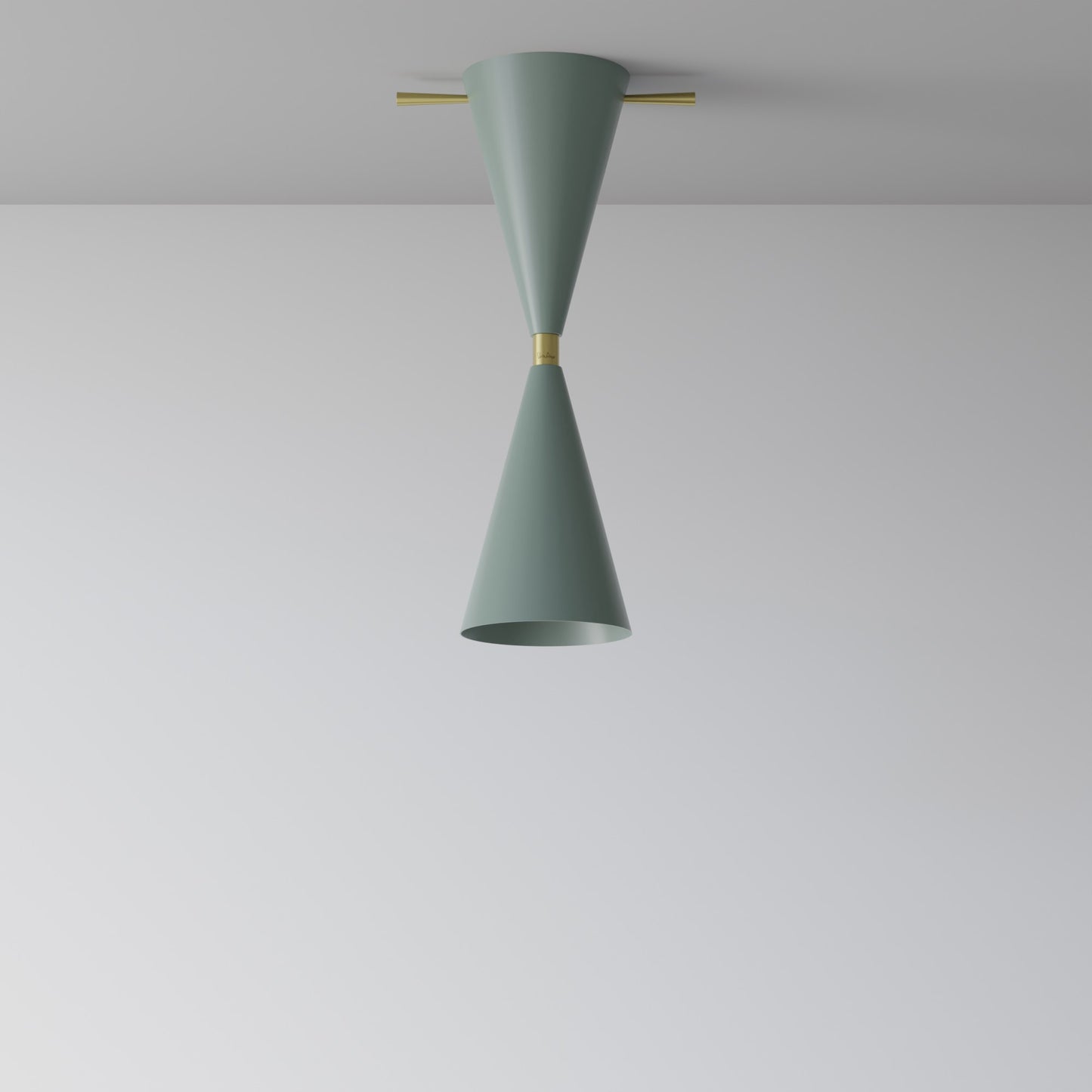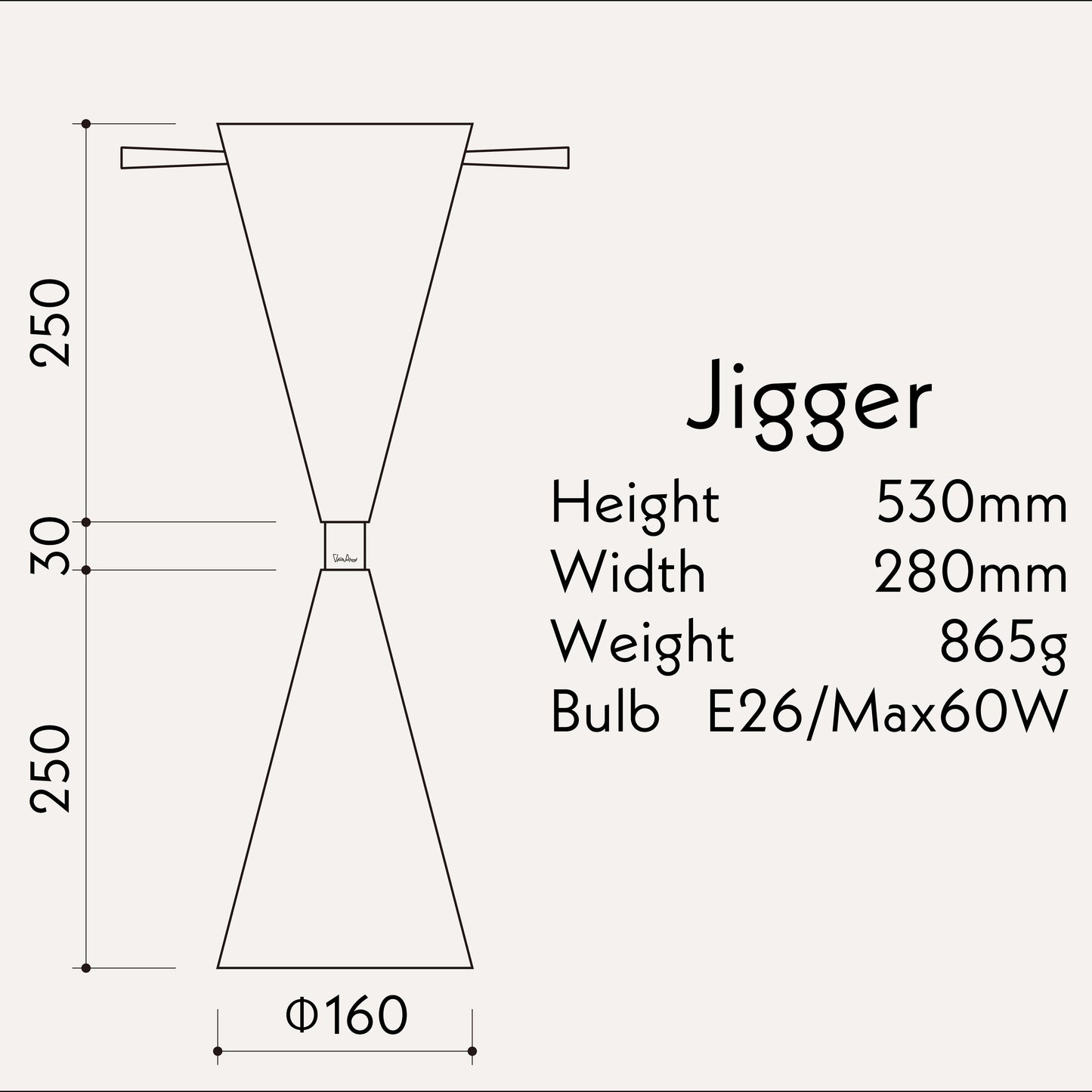 Please check before you buy

[About delivery days]
・This product will be manufactured and delivered 4 to 6 weeks after the order is settled.
*Subject to change depending on consecutive holidays, year-end and New Year holidays, and parts inventory status.
[About installation]
・Compatible with the following mounting methods
※It will be constructed by an electrician. In addition, we do not arrange electricians.
[About code]
・Normal cord length is 1m from the ceiling to the top of the main unit.
・If you wish to extend the length of the cord (α part), you can select up to 10m.
Please select from the custom screen "Option" menu. An additional charge of ¥1,100 will be added for each additional meter.
[Regarding adjustment of cord length 1 m or less]
Up to 90 cm can be stored inside the top part of the VARY main unit.
Since we cannot respond to detailed height instructions, please adjust by yourself.

[About the diffuser]
To avoid the glare of the light source, you can add a diffuser that attaches to the recommended bulb with one touch.
Please select from the custom screen "Option" menu. Additional charge +¥8,580.
[About recommended light bulbs]
The diffuser for VARY is designed based on a specific light bulb shape.
| | |
| --- | --- |
| mouthpiece size | E26 |
| ball sphere | Diameter Ø50mm |
We also recommend LED light bulbs considering the life of the equipment and the heat load on each component.


・Recommended optional light bulb
| | |
| --- | --- |
| Maker | Only One |
| Product name | Ball50 White |
| part number | LDF78D |
| spec | E26 (base) |
| total luminous flux | 325 lm |
| color temperature | 2700K |
Additional charge +¥4,070
*It is possible to use LED bulbs other than the above, but please note that we cannot be held responsible for the inability to attach the diffuser.
[About price and specifications]
・Prices and specifications are subject to change without notice.
Please download the specification sheet from here.
※in preparation
[About payment]

Available payment method is credit card payment.


We accept Visa/Master/American Express/JCB credit cards.
We use the payment system of Shopify Payment.
We comply with PCI DSS, an international security standard for credit card information protection, and realize safe transactions.
Bank transfer is only available between traders. After the amount is confirmed, we will inform you of the transfer destination information.
*Excuse me, but please bear the transfer fee.
*If you do not receive an email after placing your order
Once you have purchased the product, you will receive an "order confirmation email" immediately after placing your order. If you do not receive an email, your order may not have been completed yet.
If you do not receive an "order confirmation email" even though your order has been confirmed, please contact us using the inquiry form.
Please double check that the email address you registered is correct.
Depending on your e-mail software, there is a possibility that e-mails from our shop may be judged as "spam" or "virus e-mails" and not delivered to your inbox.
If the registered e-mail address is the e-mail address of each mobile phone carrier, the e-mail may not be delivered due to anti-spam measures.
To avoid such a situation, we recommend registering your

PC

address. If you are using a mobile phone address, please set it so that you can receive domain mail of "shop@bowks.jp"
[About returns]
As a general rule, we cannot accept returns.
In the unlikely event that there is a major defect not described in advance,
If you receive a product different from your order,
From the inquiry form within 7 days from the arrival date of the product

Please fill in <Reason for return> and send it.
In addition, we will reply within 7 business days. Regarding return correspondence, at our convenience
Since it is a returned item, we apologize for the inconvenience, but
Please send it to the address below.

〒116-0014
2-8-9 Higashi Nippori, Arakawa-ku, Tokyo Egawa Building 1F
Addressed to Bobo Seisakusho Co., Ltd.
TEL: 03-6740-2024


If you do not receive a reply from us, or if you send the product by cash on delivery without prior notice
, we will

not be able to accept returns and refunds.




We would appreciate it if you could consider purchasing after agreeing with the above [Please confirm before purchasing].
about color
Bordeaux

Chic and deep red is not only an accent color for the space, but also creates a pop impression depending on the styling.

Moss gray

Deep colors that look blue, gray, and green under the influence of the ever-changing sunlight.

Custard

The color has a sense of cleanliness and a sense of luxury, but it also has a slightly vintage feel, making it easy to harmonize with any environment.

Aluminum

You can feel the material directly, and the industrial feel is attractive.
Choosing a selection results in a full page refresh.