Pleated Paper Lampshade
WORKSHOP
Basic content
Pendant ¥5,000 (tax included)
+


Workshop participation fee ¥3,500 (tax included)
| | |
| --- | --- |
| option | Desk stand Can be changed on the day of payment + ¥ 5,000 (tax included) |


| | |
| --- | --- |
| Capacity | 4 people each time |
required time
approximately
40 to 60 minutes
Items you can take home

◆Paper lampshade ◆Pendant or desk stand *Recommended light bulbs are available as an option.
(extra ¥2640‐)
Date and time
Wednesday, June 24, 2023 10:00~17:00


June 25, 2023 (Sun) 10:00~16:00




Venue
In the MMoP store
【map】



Please check before purchasing
照明器具に関しまして
複数名のご参加の決済に 関しまして、システムの都合上、 異なる照明器具内容での 決済ができない仕様と なっております。

以下の場合は 当日での差額を決済し、 変更することができます。
※クレジットカード対応

●2名様以上でのご参加で 異なる内容になる場合

●推奨LED電球やペンダントもしくは スタンドの実物を確認してから お選びいただきたい場合

お持ち帰り頂く照明器具は【ペンダント】、オプションは【推奨LED電球なし】で 備考欄にその旨をご記入し 決済にお進みください。
※万が一在庫切れの際は、 後日発送となりますことご了承ください。


推奨LED電球に関しまして
電球は、E17ミニクリプトンタイプのLEDであればどれもお使い頂けますが、色温度と形状、実際の灯りの雰囲気という観点からペーパーランプシェードが最も綺麗に見える電球を選定しています。
色温度:2400K
明るさ:250lm

Regular price
Sale price
¥8,500
Unit price
per
Sale
Sold out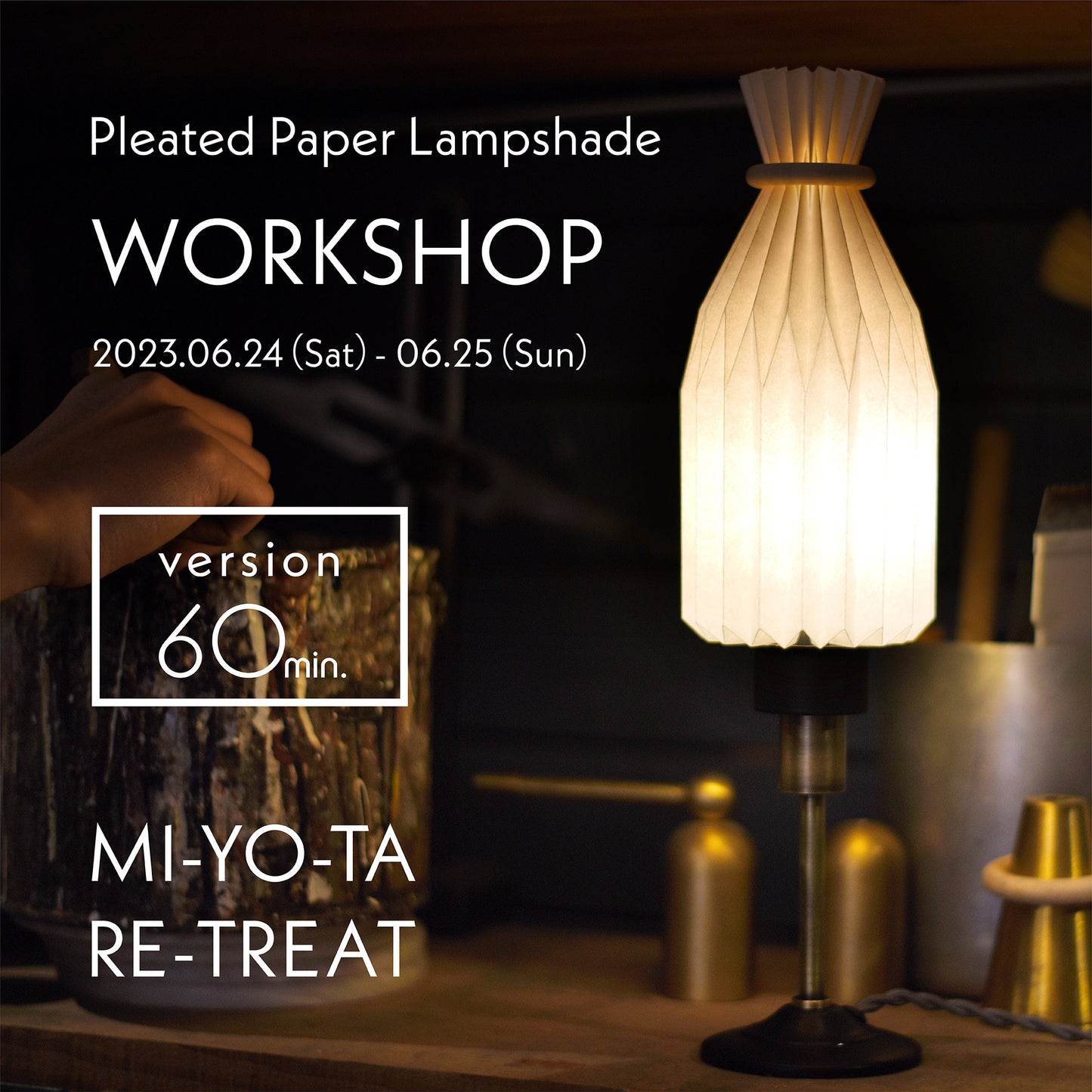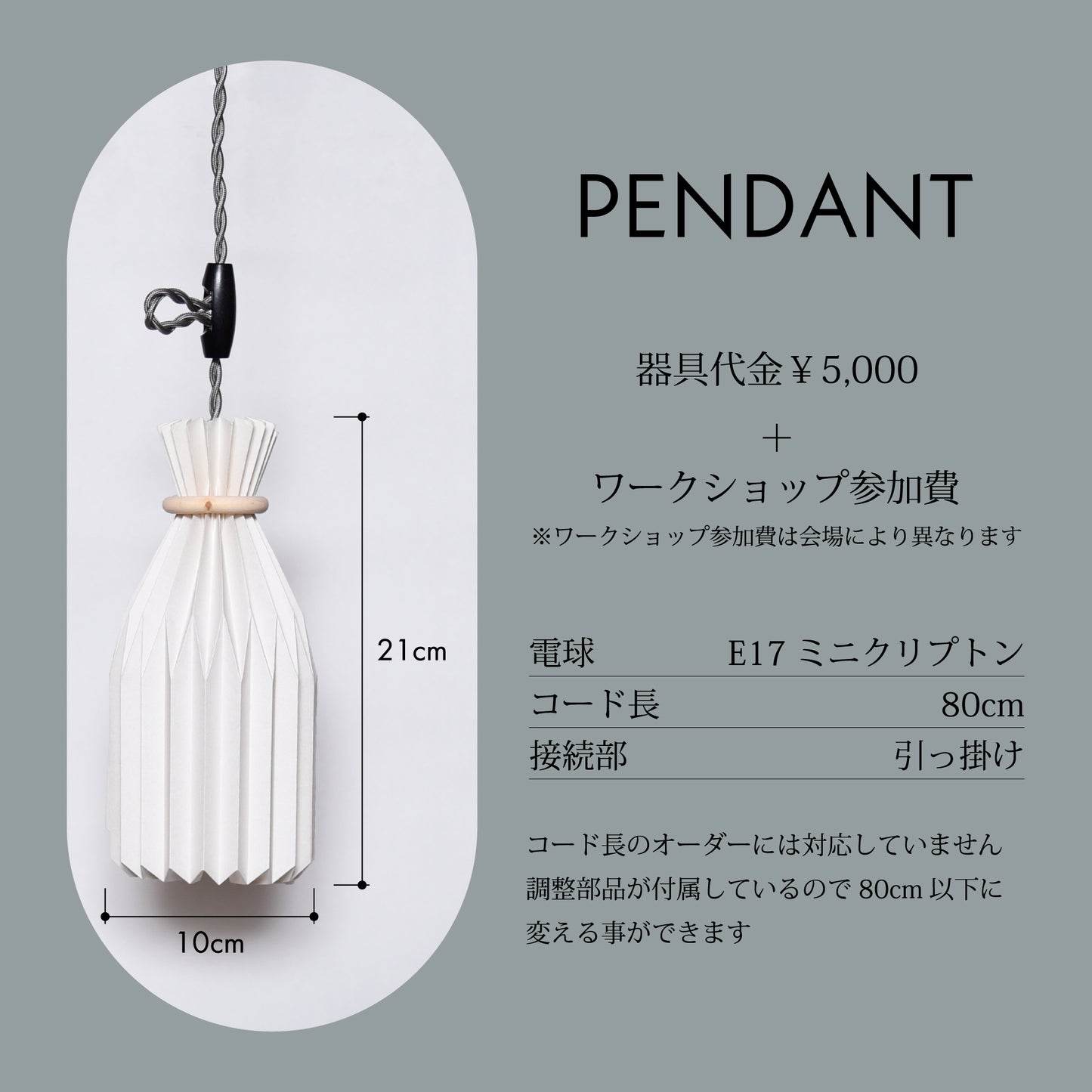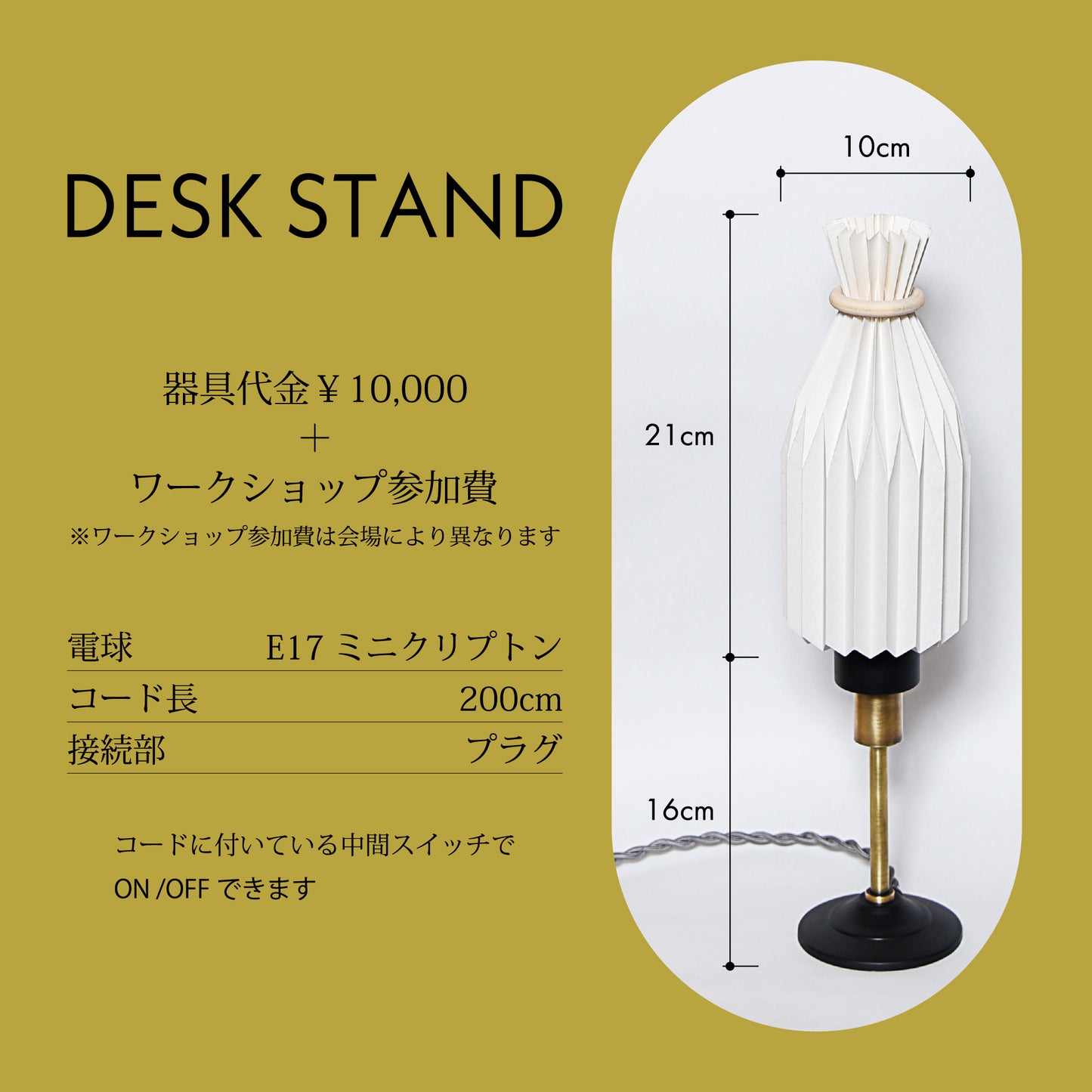 ABOUT WORKSHOP
〇 When paying with 2 or more participants
It is necessary to separate the carts if more than 2 people participate and if the course of the equipment is different.
Sorry for the inconvenience, but
In that case, instead of changing the "quantity" to "2" at a time,
Please select the course with "1",
After selecting "Add to Cart"
Please select a new and additional course and then move to "Purchase".
〇 Only LED bulbs can be used with the pendant/stand.

(It is not included, so please prepare it by yourself or purchase the optional LED bulb when applying for the workshop.)

An additional amount will be charged (+¥2,640)
*Never use an incandescent light bulb as it may cause fire.

〇 We do not accept workshops (experience only) or sales of equipment only.
Thank you for your understanding.


〇About cancellation of reservation

Regarding the cancellation of the workshop order,
Cancellation fee will be charged as follows.

| | |
| --- | --- |
| that day | 100% of the billed amount |
| 5 days ago | 30% of the billed amount |
*We will refund the full amount if it is before the notation.
〇We do not charge [shipping fee] for

workshop

application. In the unlikely event that the price includes the shipping fee, we will refund you, so please contact us from the inquiry form.
〇 Measures to prevent new coronavirus infection
・Alcohol disinfectant will be installed at the venue.
・Please note that our staff will be wearing masks.
・We ask all participants to wear a mask on the day of the event.
・Participation may be refused if you have a fever or are feeling unwell.
・In addition, please follow the instructions of the staff at the venue and the instructions of the venue manager.